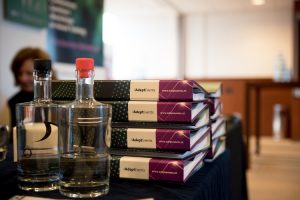 Practically all of our seminars and workshops can be offered as an In-house course for your company exclusively. Sometimes as a shorter version or if need be as an extended version with more detail or exercises or with extra focus on specific topics that apply to your organization. We also offer some courses as 'In-house Only' that are not offered as public course.
The added value of running our courses In-house are outlined below.
Corona update

: we can also offer In-house training as a '1.5 metre proof' concept where in some cases an extra camera is used. But also as a strictly online format from our specially equipped course studio so that your employees can attend virtually from their own (home) workplace. We have gained a lot of experience with this format as well as very positive feedback. If necessary, we could offer a hybrid format with a limited number of attendees in the classroom as well as online attendees.
We can customize the existing course to suit the situation in your organisation
You receive on-site training combined with consultancy since all questions from the group are specific for your situation
You will save on travel and living expenses, especially with workshops that last several days
The date can be set to your wishes if the request is done well in advance
With large groups, often already starting at eight attendees, the cost will drop significantly as compared to the public course
If you cannot provide an adequate classroom of if you have several offices spread across the country, such as The Hague and Groningen, we can help you find a venue to run the course.
Convinced? We would be happy to provide a quote for running an in-house course in which case we would need the following details:
Which specific seminar or workshop / which speaker
Estimated number of attendees
Preferred location for the In-house, unless you opt for virtual traning
Preferred period/month to run the event
Your contact details or phone number.
To request a quote for an In-house course or should you have any questions about this, please contact us using the Contact form or customerservice@adeptevents.nl or feel free to contact Werner Schoots at +31 (0)172 742680.