About Adept Events
Adept Events
Adept Events is an independent organizer of seminars, workshops and conferences on various IT-related topics. We have established a strong relationship with the leading portals BI-Platform.nl and Release.nl and numerous international speakers and analysts on these topics.
Our main focus is on subjects such as Business Intelligence, Agile BI, Data Warehousing, Analytics, Big Data, Master Data Management and Governance, Data Integration and of course, Data Modelling. In addition, we offer seminars and workshops covering other fields, namely System Development, Agile and Scrum, Requirements Engineering, Business Analysis, UML and Use Cases, Enterprise Architect, BPMN 2.0, and Business Process Modelling.
We feel that independency and high quality of the content provided are critical to our seminars, workshops, expert meetings and conferences and it is therefore our duty to provide this to every customer. All events have the common goal to expand the customer's expertise and knowledge and bring them in contact with experts and specialists in the field as well as peers.
Follow us and stay up to date through our newsletters, targeted to your needs, Twitter, Google+ and LinkedIn.
Workshops
Each workshop covers a particular topic and will last for one or multiple days. All speakers and trainers have a prominent reputation and international experience and offer their trainings all over the world. The workshops are characterized by the strong interaction between the trainer and the delegates when they work on a case or on exercises. The delegates are often divided into groups and are encouraged to work hard. Because of the fact that each group receives personal attention, our workshops are generally limited to approximately 25 participants.
Seminars and conferences
Stay up to date by attending our seminars in which specific topics will be covered in detail and the most important products and suppliers will be critically evaluated. Again, we only offer you speakers who have considerable knowledge and experience and who are vendor-independent. Especially their experience in a multitude of projects and organizations will become helpful for your own business problem or situation. The seminars are interactive and provide substantial time to share problems and ideas with the speakers and other participants, who usually face similar difficulties.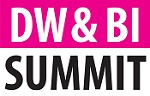 At our conferences, only the best independent speakers that have continuously and successfully contributed to the field are invited. For example, the speakers at our Data Warehousing & Business Intelligence Summit 2014, were top analysts and thought leaders Claudia Imhoff, Rick van der Lans, Colin White and Mike Ferguson. Key topics for the 2014 edition were: Real Time Operational Intelligence, Big Data, Analytics, Data Science, Enterprise Data Management, Self Service BI. One will typically find a combination of international keynote speakers and well-known local experts from The Netherlands and Belgium. Authors that post on our portals often also speak at our events.
Expert Meetings
A unique series of short seminars with top-rated speakers and specialists. The Expert Meetings take place in a relatively informal setting and atmosphere with plenty of opportunity for interaction. The duration of an Expert Meeting is usually half a day, either in the morning, afternoon or early in the evening.
History
Adept Events was founded by Werner Schoots in October 2012 with the main goal to transfer vendor-independent knowledge on a variety of fields within IT. Next to attending our seminars and workshops by internationally acclaimed speakers, one can also stay up-to-date with the BI-Platform portal.
Founder Werner Schoots studied business economics at the Erasmus University Rotterdam.

After having worked in the IT industry and in publishing, he started his own company, Array Publications, together with the launch of Database Magazine (DB/M). After DB/M, many more magazines followed, such as Software Release, Business Process Magazine, Java Magazine, Storage Magazine and IT Service Magazine. Next to this, he contributed significantly to several seminars and conferences such as Database Systems, BI-Event and Trends in BPM. The exhibitions Telecom Expo and Cloud Expo, together with the conference Cloud Congress, have been organized successfully by Werner and his Array team for years.
Administrative details
Array Media B.V.
Adept Events
Suyderbon 44
2465 BR Rijnsaterwoude
The Netherlands
| | |
| --- | --- |
| VAT-no. | NL851960236B01 |
| Chamber of Commerce | 56059825 |
| Bank account no. ABN AMRO Bank | 045.04.48.258 |
| BIC | ABNANL2A |
| IBAN | NL07ABNA0450448258 |