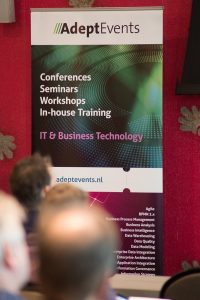 This event is organized by Adept Events, an independent organizer of seminars, workshops and conferences on various IT-related topics. Upon receiving your registration we will send a confirmation by e-mail followed by an invoice. Please note that payment needs to be completed to ensure admittance or at least to be transferred within two weeks after invoice date. In the case of Conditions of Purchase that do not allow invoicing in advance of the event and/or that allow payment terms of more than thirty days, the early bird discount is not applicable.
Cancellation Policy
Cancellations by attendees must be received in writing or by email (seminars@adeptevents.nl) at least three weeks before the commencement of the event and will be subject to a € 75,- administration fee. It is regretted that cancellations received within three weeks of the event date will be liable for the full registration fee. Substitutions by other persons can be made at any time and at no extra charge.
Cancellation Liability
In the unlikely event of cancellation of the event for any reason, Adept Events' liability is limited to the return of the registration fee only. This applies to attendees as well as conference sponsors or exhibitors. Adept Events will not reimburse delegates or sponsors for any travel or hotel cancellation fees or penalties. It may be necessary, for reasons beyond the control of Adept Events, to change the content, timings, speakers, date and venue of the event.
Recordings and photography
Please be aware that still photography, video, and audio recording may occur at this event. By attending this event, you consent to have your image, photograph, likeness, picture, rendering, or audio recording utilized for Adept Events educational, marketing, and sales purposes. You hereby grant Adept Events the right to unrestricted use, reproduction, display, dissemination, publication, and distribution in any medium, provided that Adept Events will take measures on behalf of attendees against infringement and/or inappropriate use of your image, photograph, likeness, picture, rendering, and audio recording.