The virtual seminars and workshops will be offered through an online meeting platform, usually Webex or Zoom, from our video studio. The virtual classroom is equipped with multiple professional cameras and microphones and we have a two person crew available so that we can offer a similar experience to that of the traditional classroom and, more important, still offer adequate interaction with the speaker.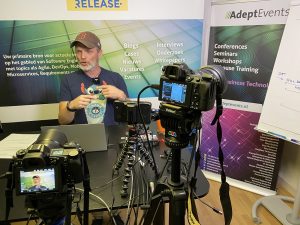 The presenter / trainer will still use his Powerpoint, combined with flipchart and paper, virtual whiteboard and physical whiteboard and will be accompanied by a operator / moderator at the scene. The presenter does not have to worry about technical issues such as switching, splitting, microphone settings and such but can fully focus on the course material and on engaging with the online attendees.
When using the flipchart, the moderator will take care of switching scenes and camera perspective and of switching to attendees to ask questions.
When switching to flipchart you will have full view of the presenter and of the flipchart with all text and diagrams crystal clear.
And since the presenter / trainer is equipped with a wireless lapel microphone and the questions of the participants enter the course room clearly understandable (amplified), he can answer those questions from anywhere in the classroom and from any camera angle.
Asking questions and the speaker answering them can therefore be done just like you are used to in a regular classroom.
Because the course room is equipped with at least four monitors, the speaker/trainer also has a view of the online participants during the meeting.
For some (international) speakers we may use their own virtual course room with similar facilities but we will send the invite ourselves and the meeting will run on the Adept Events online meeting platform.
All of the above is to ensure that it does not become an impersonal one-way webinar but an interactive virtual classroom setting.
Those attending an online event or a hybrid event with the online meeting platform will be sent an invitiation with the meeting hyperlink and instructions a few days before, so well in advance of the course.