Adept Events offers several sponsoring options you can choose from, depending on the type of event you wish to participate in:
– Vendor sessions
– Exhibitor
– Additional sponsoring items.
The options you can choose from depend on your sponsor status. For example, if you choose to be the main sponsor of an event, you are offered more options than if you choose to be solely an exhibitor.
However, no matter which choice you make, our sales people will present you with an offer tailored to your specific wishes. Naturally, you can combine the individual options as described above.
Vendor sessions

You can choose to present a vendor session which is adapted to the theme of the specific event. In our schedule of presentations there is a time slot of 30 minutes reserved for vendor sessions twice a day. These sessions present you with an ideal opportunity to introduce the attendees of our events to a new development within your organisation or a new product, which is related to the central theme of the event.
Exhibitor
If you choose to be an exhibitor at one of our events you will be appointed an exhibition space near an electrical outlet with enough space to present your advertising material. Having an exhibition space allows you to introduce your company to your target audience in a relaxed manner. It is also a great way to let the attendees get acquainted with the nature of your company and the possibilities within your organisation. In short, it is the perfect opportunity for networking.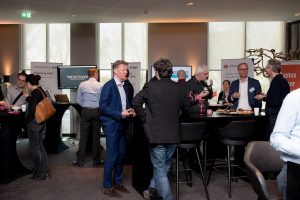 To enhance getting in contact with the attendees, the exhibition booths will be placed on a strategic location, more specifically in a room where during the day at least two coffee breaks take place. This way you will have ample opportunity to exchange business cards and get in touch with your target audience.
Additional sponsoring items
During the promotional stage of our event we offer you the opportunity to present your company in several different ways. For example, you can choose to have your company's logo printed in related advertisements and brochures or to have it placed on our website. If you choose the latter, we can create a hyperlink from your logo to the website of your choice.
Furthermore, we offer you the opportunity to place a banner including a hyperlink of the event you participate in on your own website, so that visitors to your website know where and when your company will be presenting itself.
For certain events a cd-rom is issued on which, if you choose to do so, one of your company presentations can be included.
Please contact the sales department of Adept Events by using our Contact form if you need any additional information.